tap taps, motos and happy boys
Posted November 30, 2011 - December 3, 2011.
So much to share today…so much I have already seen and experienced. But I will stick to the main adventure of the day.
I traveled through the city on both a tap tap…and a motorcycle!
Shopping at the sewing center for Heartline Minisitries was our destination…they are an AMAZING organization in the city that works to provide the women and children in this community with a safe place to learn about Jesus and to adopt life-skills. Today I was able to experience the creative skills of the seamstresses in their Haitian Creations shop…and savor a little parfe chokola from their cooking school.
Rock was with a parent on a journey to Cap–Haïtien to meet a new little boy waiting for adoption and needing an orphanage until the paperwork is compete…so Everest and I adventured out on our own…via public transportation…
And when we returned home…Miss Naomi and I sorted out the treasures sent by the Puckett family and my friends into Christmas packages to be shared with the boys on the holiday…and packages for today. It was a good day.
school.
It has been another full day…the children started their day with singing and a morning prayer.
I enjoyed a little class time, a trip to fill by backpack with jewelry from the Apparent Project, checked in on the adult English classes…and worked on the website for Partners In Education. It feels like a very productive day…and I am too tired to share any kind of wisdom tonight. I will eat my plantain porridge and head to my bunkbed.
waiting.
These sweet boys are waiting for their forever family….and their forever family is waiting for them.
So I got to be the "deliverer of gifts" from the waiting family. The hats were a hit! (As well as all of the other treasures.) And the photos were tucked away in their special stash…as they wait.
website development.
The day was spent working on the website for Partners In Education. We interviewed the children from the orphanage and school…Rock and Everest were superstar interpreters! The children were hesitant in their answers…as though they had not been asked these questions before…"What do you like about school? What do you like to do for fun? What is your favorite food? What do you want to be when you grow up?"
The responses seemed very similar among them…when asked where they live…they often pointed and tried to tell us where they live. When asked about what they like to do, most said they like to write in school and for fun they play football (soccer.) Favorite foods were typically beans, rice, chicken and cornneal. Dream careers were teacher, doctor, lawyer, or policeman…we did have a few masons and a couple of preachers.
In my twenty years of teaching, I think the responses of American children would also be very similar to each other..where they live would be pointing and sharing down the street, by the park etc. At school, most kids would claim recess or gym as their favorite with a few that would say reading or math. Things to do for fun would often center around sports…or maybe video games! I am afraid that Americans would express less healthy fav foods-pizza, french fries, chicken nuggets. And the professions may be similar, but the impact of pro athletes would be in the mix.
Hmmm. Interesting to me as an educator.
Stay tuned for more info on the website! Hoping to be up and running before the end of the year!!!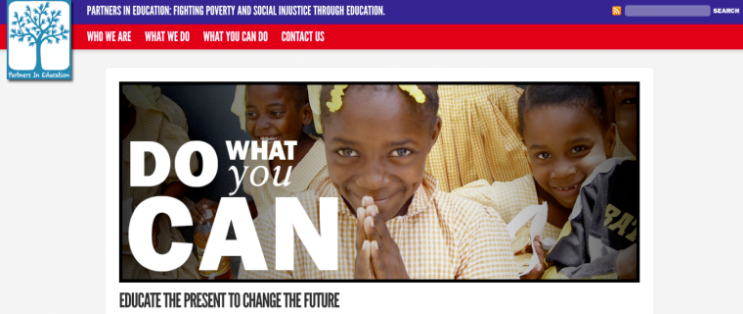 Haitian pate.
Miss Naomi and her friend Bernadette made us Haitian pate last night. Yummmms! I think many cultures have a pastry with something delish tucked inside…there are the Spanish empanadas that my friend Amy prepares…or the Indian tacos that my 6th grade teacher taught us to make…or the Jamaican pasties I tried from a street vendor on the way to Ocho Rios…and now Haitian pate.
Haitian Pate
1 cup cold water
1 teaspoon salt
3 cups all-purpose flour
1 cup vegetable shortening and ¼ cup butter mixed together
1 egg yolk, beaten
2 teaspoons of parsley
2 chopped shallots
1 chopped garlic clove
1 lb pound seasoned meat (could be ground beef…we had chicken and herring)
1 tablespoon of beef or broth
Tomatoes (optional)
Hot chili pepper (optional)
1.Pound to paste the parsley, pepper, shallot, and garlic. (may add diced tomato or hot chili pepper.)
2. Add seasoning paste and broth to cooked meat and mix well.
3. Cook covered on medium heat for 10 minutes. Stir constantly.
4. Uncover until liquids are absorbed. Now filling is ready.
5. Place flour in a large mixing bowl and make a hole in the center. Pour in water and salt. Mix lightly with a spoon without kneading. Place dough in refrigerator 30 minutes.
6. Roll the dough into a rectangle 1/4 inch thick. Spread half the shortening mix on the dough. Fold one side over the middle and spread this section with the remaining shortening. Fold over the remaining section and again roll out to 1/4 inch thickness. Fold again into thirds and roll out. Repeat this rolling process a third time. Refrigerate dough overnight.
7. Roll the dough to about ½ inch thickness. Cut the dough into 2 1/2 inch rounds.
8. Place a tablespoonful of meat misture on one side of the dough rounds. Fold and lightly press ends together. Place the patties on a baking sheet. Brush them . Cover with remaining rounds, pressing the edges down. Brush the tops and edges of the patties with egg yolk before placing in the oven. Place a pan of water on the bottom rack of the oven.
9. Bake at 400 F 30 minutes, then turn the oven control to 300 F and bake 20 minutes, or until golden brown
Ours were fried in oil until browned, instead of baked. So delish.
final day.
As I prepare to leave later today, I am sitting here drinking strong Haitian coffee, eating a fresh orange from the market and listening to the two primary classes in action. There are so many very wonderful things about Haiti that many do not see when they are blinded by the media's portrayal of a nation filled with poverty, corruption, and other social injustices.
When I am here, I see so much beauty. The people that I have met and encountered on the street are loving, warm and open. Seriously…when you fill a tap tap, you are practically sitting on someone's lap and they accepted me as a long legged American with smiles and encouragement to scooch closer. The greeting among friends and family is often a kiss on the cheek…I received and gave many kisses this week. There is nothing sweeter that a little school girl in her uniform greeting me with a "Bonjour Madame Sara" and a kiss on the cheek. The adults that attend the English Institute here in the evenings were thrilled to have an American to practice English with…they were interested in my life and asked many questions. In fact, our neighbors (who are English students), Gustave and Carmine, invited Everest and me over to their home yesterday to enjoy coconuts! I shared a room with the nanny/nurse Miss Naomi this week…and she is wonderful…with a lovely full laugh and a heart of gold.
Ohhhh, and the boys in the orphanage are so incredibly full of warmth and love…which seems a little hard to believe given their circumstances. They run to the gate whenever I return and greet me with hugs and questions that I do not understand! They are polite and kind and so, so sweet. I will miss them dearly.
I look forward to my next trip here to reconnect with these dear friends.