Published June 17 - 25, 2012
the pictures say it all.
I have been up for nearly 19 hours…and I am ready to head to bed, but thought I would throw some pics from my first night on here. I arrived in Haiti in the rain…so the evening air is cool tonight and the city has granted power to the people. Hallelujah for a bit of electricity!
Highlights of the night included the hugs and hang out time with the boys, (they loved getting pics of themselves from my last trip) a bowl of plantain porridge, running around in the yard with the new kickball, good conversation with Everest, and the everyday silliness of the boys. The cuddle factor has certainly increased since that first visit a year ago…they are a sweet little family here and it felt great to be welcomed back in. Ecclesiastes' first question to me was "Bree?" meaning he was wishing she had come along. Next time
exam day.
The boys headed downstairs to class this morning. It was exam day, so they finished up another school year. It was so wonderful to be greeted by the students with sweet cheek kisses and energetic creole (they talk at me with excitement and I simply nod.) The teachers led them in their opening songs and prayers, reviewed a bit and then began the testing. There was plenty of time to play in the midst of these exams…stay tuned for more pics!
field trip.
We took the boys on a field trip today that makes my hike in Puerto Rico look like a walk in a park!
We hiked up the hillside behind the orphanage today and explored the area, in a way that little boys love…
ELEMENT OF SURPRISE/ANTICIPATION-we headed out for an adventure, with an open mind and a vague plan-ready for anything
DANGER -trucks and motorcycles traveling along the roads-so we would stand at the side of the road single file as they drove by
WILDLIFE-dogs, pigs, cows…an extensive ant colony that was overtaking a tree
NATURE-we walked under enormous Mapou Trees, collected Mangoes, jumped over fresh water springs, climbed hills and hiked through a rocky ravine
IMAGINATION-there were sticks gathered and carried and stuffed down the back of their shirts as though they were carrying their "weapons"
ADVENTURE and HISTORY- as our "Tour Guide Feliz" (pronounced like Feliz Navidad) whom we discovered in the Mango Forest, led us up a hillside, through a cemetery and out to a spectacular view of Port au Prince
SNACKS-bottles of water from a boutique in the back of a truck, and fresh mangoes that dripped down their faces as they ate and walked
What more could we have asked for?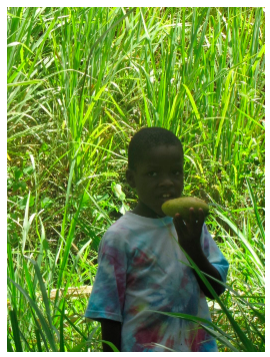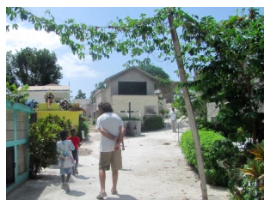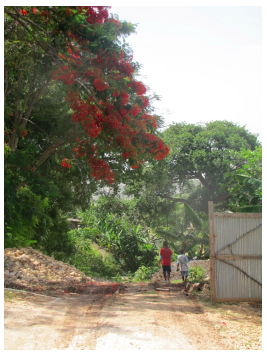 books.
The two primary classrooms got a sneak peek of the books. And they loved them! Most of the 230 books are pairs…perfect for partner reading! The idea would be to read together to build decoding, word id and fluency skills… and then talk about the story to expand their vocabulary and comprehension. The students jumped right in!
The teachers are still learning. When I handed the books to one of our teachers and encouraged her to use them, she was unsure what to do with them. The directions seemed clear to me, as I suggested the partner reading with the option of reading together or turn-taking reading. She began with the task, and then often stopped partners that were reading in unison and made them read one at a time. In my view, the kids were all engaged and making connections from the text to the pictures.
Then she stopped them. She asked one partner group to stand and read the pages of their book, alternating one at a time. And so the engagement ended. The other children did not have copies to follow along on. There was no context for the read aloud. The children became bored and inattentive. They were asked to close their books and listen.
We still have some work to do. Teacher training begins on Friday morning. I am looking forward to the conversations….and praying that there is open mindedness to the possibilities of expanding their practices.
another world.
In my normal day to day living, I am a rule follower and cautious; I am busy.
In Haiti, I have become a bit of a risk taker (even broke a law today) and I am laid back with time on my hands.
It is a crazy reality the way my two lives look a bit different, neither better than the other…just vastly different.
Today, as I was cruising through Port au Prince squished into a Tap-Tap, with the sweat dripping from the back of my knees…and then later on the back of a motorcycle that was cruising in and out of traffic, to the right and left and in between vehicles, through crusty potholes filled with water…I took a look at myself and thought – Who am I? Is this my life? And yet, there was no place I would rather be in that moment. I was living as a local. A big van rolled by with a group of other Americans on their way back from the Apparent Project as well, and I was so thrilled to be the one on the moto and not in an air conditioned van. The law breaking moment came when the police waved us to the side of the road because their rules indicate just on person per moto…and we were riding double. The officer was kind enough to let us travel on, as soon I hopped on the back of another driver's moto.
My laid-back afternoons consist of lunch, napping, activities with the boys and reading…such a nice pace in comparison to the busy days during my school year.
And the evening excursions the last two nights have been to walk down to the main road, where the street vendors are selling their products, to purchase a smoothie…the equivalent of an Orange Julius…sold from a sweet man named Eddie at his card table with a blender, a bucket of fruit, some vanilla, sugar, a can of milk and ice…so delicious. Finished with a walk in the dark, through the night, amidst the Creole speaking folks.
And I think…yes, this is my life.
schoolgirls.
Seriously adorable. Don't you agree?
working.
It may appear that it has all been fun and games here, but I really have gotten some work done…you must believe me. I joined the Language Institute class last evening as their American-English speaking guest, where they asked questions and practiced speaking and listening with me. Everest and I had a skype call with the website designer in LA earlier this week, and then spent several hours yesterday editing the content. We are hoping to launch the new site in the end of July if all goes well. We have had countless conversations on the efforts of NGOs (Non-Governmental Organizations.) In fact, we were able to join another NGO worker for dinner last night for more enlightening chatter. She had actually been interviewed on national Haitian television just yesterday to provide an update on the project she is working on at this time. How cool is that?
As with anything, there are goodNGOs and there are bad NGOs…we are hoping that our programs and the concept of what we intend in the development of Kozefó is one that is honoring of the people of Haiti. We desire to work with the people…to build the capacity of locals working and teaching here…to increase conversations amongst teaching colleagues so that they learn from one another…to walk alongside, rather than to come in and tell them how it must be done.
On a side note…a couple of nights ago, I had the opportunity to use skype to connect my nephew JP(who had spent his first 12 years here, in this home) with our nurse Miss Naomi, who had cared for him in those early years. They chatted in Creole and laughed and recalled shared memories. It brought quite a bit of joy to ALL of us.
kids will be kids.
The greatest thing about working with kids is that no matter where I go, I find that there are similarities. I find them to be curious, creative, imaginative, silly and playful. They act on impulse. Their emotions are raw. Joy is evident. I find their ability to share a beautiful thing when it occurs. Risk taking is a natural part of what they do, until they are told otherwise. When they are fascinated with something, they stick with it (even if it happens to be the silky hair of a white lady!) You gather a few boys together and there is bound to be a weapon involved…perhaps a stick or a marker or one created out of legos. They love to have their picture taken, and are thrilled when watching videos of themselves. Recess is more fun than class. Running, jumping, dancing, playing, exploring, climbing are some of their favorites. They desire to be loved, protected, cared for and encouraged. They simply want someone to spend some time with them. And this is what I know of kids.
adventures.
I just committed to a week without complaining/whining with a group of women that I am doing a book study with back home. So please note that this entry is not meant to be a list of complaints, but rather a collection of facts. I am trying my darndest NOT to complain.
So let me share my adventures of the past 24 hours.
I had requested one of my favorite Haitian foods last night, and our friend Nadege joined Miss Naomi in making pate. It is a combination of chicken and vegetables, wrapped in a bread dough and then fried. It is delicious. It was the final meal in a day filled with VERY RICH foods…breakfast-spicy spaghetti, two tomato slices and a boiled egg; snack-an ear of corn, grilled over coals (more like field corn than sweet corn); lunch-stew with potatoes, greens and a hunk of beef.
Around midnight, I begin to feel the effects of the richness of the food. It was dark and hot and everyone was asleep. I snuck out to the kitchen to get some water and proceeded to barf up the contents of my day into a water pitcher. I quickly scurried back to my shared room with Miss Naomi (who slept through it all) before needing to sit on the toilet, if you know what I mean! And then I dumped the vomit in the toilet bowl and began filling water in the tank in order to help the flushing process. Hmmm.
I pulled a small mattress from one of the extra children's bunks and moved to the gallery/porch to sleep outside in the fresh air.
The morning arrived and I was determined to make it to church. I was still quite weak and a little queasy, so I suggested taking a motorcycle, rather than crowding into a hot tap tap.
We were a bit early for church, so we purchased a sprite from a street vendor and visited with others waiting for church, including the founders of Worldwide Villages (Bree's bosses for her summer internship!)
As church began, I could feel myself getting warmer. We stood and worshiped and I was loving it…and then I felt the need for air. I excused myself and sat outside in the little bit of breeze I could find. My "friend" Tara (whom I feel like I know personally as I read her blog and Facebook posts faithfully) said hello as I was making my escape. The rest of story is a bit of a blur. I recall going back in to let Everest know that I was not feeling well. I told him that I felt that I may be sick and needed to leave. We got up to go and the next thing I know I was being carried out of the church by a group of strangers…and my "friend" Tara. What the heck!!! Apparently, I had fainted as I was leaving the church. Anurse was there immediately and a doctor in the service came to check on me. So…so…so embarrassing! I drank some water, and rested and got enough strength to make it to a tap tap . In fear that I may faint again, we did not dare try a moto! Thankfully Everest is becoming an expert in Creole, so he negotiated a deal with the tap tap driver to let us sit in the front of the truck with him and he delivered us right to our gate. It was our own personal "tap tap taxi" for the low price of 250 gourdes (not really even sure how much that is…it feels like Monopoly money to me, so I gave him 500 gourdes and in my mind I figured he now has enough to purchase Park Place…or maybe even a Railroad!)
Upon arrival home, I drank plenty of water and crawled into my bunkbed with the fan blowing on me (praise God for the generator to give us a little power this afternoon.) During this little rest, I was awakened due to the arrival of a guest….my nephew's birth mother Guerline had arrived. What a special visit with her, so that I could pass on a message from JP and his parents (my sis and brother in law.)
The adventures abound in this place. My strength has returned…and I was able to have enough energy to conduct the second of our teacher training sessions this afternoon. More about that later!
So today I have consumed water, sprite and wheat thins. Tonight's sleep should be much better.
teacher training.
Oh where to begin. The teacher training exceeded any of my expectations. I am so blessed by the teachers that attended. They were interested, open, and reflective.
Program Directors Everest and Edwige have been conducting trainings for the past several weekends with a collective group of our two primary school teachers and others from neighboring schools. They have used a "circle process" of gathering these individuals to dialogue around their teaching practices and philosophies. They have encouraged one another and worked to develop strategies and techniques in their work.
I developed two sessions to share, the first being "Rituals and Routines", and the second regarding the "Instruction of Reading." I had the opportunity to gather photos and video clips from a French Immersion school in St. Paul to make the learning examples relevant to their work. The concepts and strategies that I shared are things that I believe in for all children, regardless of where they are being educated.
The conversations were rich and insightful. Teachers are ready to begin implementing ideas in their classroom. They shared struggles and burdens they face. Many are similar to those we all have (children that arrive unprepared, students that lack motivation, the amount of time it takes to plan, the varying levels of students' skills in their classrooms) and many issues that are unique to this third world country (they have minimal materials-for example in a class of 35 students, only 5 have purchased the text books necessary for learning. What do you do with that? Chart paper and markers come at a great cost. Volunteers and teaching assistants are non-existent.) So we begin with what we have and we move forward.
As we ended our session today, the teachers went around the circle, each sharing at least one idea that they intend to implement. They shared their gratitude in our efforts to provide training. Their heartfelt thanks made me cry. I was incredibly touched by their words. As each one said farewell to me, they again expressed their appreciation, and many shared that they will pray for God to continue to bless me.
I AM blessed.
departing.
It has been a lovely 9 days, and now I depart. I am currently sitting at the airport in Port au Prince…they have wifi! Who knew? The work here has been good…teacher training, website development, philosophical conversations about the efforts of Kozefò. But what I will miss most are these dear little boys. They may appear to have so little…but their joy and love and creativity is contagious. So until next time, I will keep these sweet boys close to my heart.